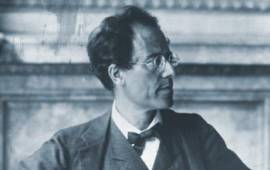 GUSTAV MAHLER (1860-1911)
Lieder und Gesänge aus der Jugendzeit (14 frühe Lieder)
for voice and orchestra
orchestrated by Colin and David Matthews
The early songs by were never orchestrated by Mahler himself, though over the years many people have created their own version of them. Colin and David Matthews, whose relationship with the music of Mahler is well-known, have collaborated on the orchestration of these songs. Their initial work dates back to 1964 and was meticulously refined right through to 2009. Josef Weinberger is proud to announce the release the final performing version of these songs for the first time.
Songs:
Frühlingsmorgen
Erinnerung
Hans und Grete
Serenade
Phantasie
Um schlimme Kinder artig zu machen
Ich ging mit Lust durch einen grünen Wald
Aus! Aus!
Starke Einbildungskraft
Zu Straßburg auf der Schanz'
Ablösung in Sommer
Scheiden und Meiden
Nicht wiedersehen
Selbstgefühl
Orchestration: 2(2 dbl picc).3(3 dbl cor).3(2 dbl ecl; 3 dbl bcl).2(2 dbl cbn) / 4.3.0.0 / Timp / 2 perc / hp / str
Duration: Approximately 34 minutes
Score and parts: Both the score and parts are available on rental