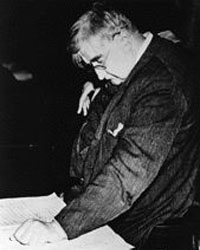 Ralph Vaughan Williams was born in Down Ampney, Gloucestershire on 12 October 1872. He was related to the Darwin and Wedgwood families and grew up in an atmosphere of Liberalism, where he was encouraged to pursue his musical interests.

He read History at Cambridge and went to the Royal College of Music where his teachers were Parry, Wood, and Stanford. He then went on to study with Bruch in Berlin, and Ravel in Paris.

Vaughan Williams's wide ranging musical activities greatly enhanced English musical life but they have also contributed to the mistaken view that his compositional work was in some way parochial. He believed in the value of music education and wrote practical competition pieces, serviceable church music, and with the 49th Parallel (1940-41) he found a new outlet in writing for film. Yet his profoundly disturbing Symphony No.6 (1948) received international acclaim with more than a hundred performances in a little over two years.

Although one of his first works to achieve success, Norfolk Rhapsody No.1 (1906), makes use of folksong, he rarely incorporated such material directly into his orchestral and instrumental compositions. His enthusiasm for folksong (he collected over 800 examples) undoubtedly influenced his compositional language, as did his interest in Elizabethan and Jacobean music.

His great sensitivity to 20th century human conditions, his flexibility in writing for all levels of music making, and his unquestionably great imagination combine to make him one of the key figures in 20th century music.

Vaughan Williams died on 26 August 1958 and his ashes were interred at Westminster Abbey.