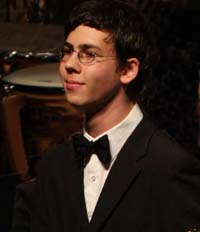 Jacob Plachta is an graduate of the University of Toronto, having studied classical trombone performance. He has both been playing the trombone and composing music for more than 10 years, and loves both of these activities, as well as listening to classical music. He has played in a variety of ensembles such as the National Youth Band of Canada, and has had success in events such as the winning first prize in the Hannaford Youth Solo Competition, twice. The second win was with his Sonata for Trombone and brass band. His strong interests also include computer science and strategy games.

Program note for Jacob's Sonata for Trombone

This Sonata is a musical showcase for both the trombone and piano . It gives both musicians a chance to exhibit both fast, technically-challenging playing, as well as slower, lyrical emotions. A number of musical themes, with moods ranging from bold, to exciting, to grandiose, can be found throughout the composition, as a conversation between the performers. The frequent dialogue between the trombone and piano parts keeps the performance of this piece flowing and captivating from start to finish.
Audio clips from Jacob Plachta