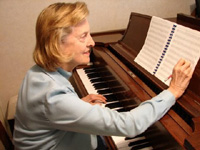 Ruth Watson Henderson has an international reputation as one of Canada's leading composers and as an admired pianist and organist.

Known especially as a composer of choral works, she has done much to promote the artistry of children through her wealth of compositions for treble voices, using the expertise gleaned over the 28 years she served as the accompanist of the Toronto Children's Chorus under Jean Ashworth Bartle, until they both retired in 2007. She has at the same time written a wide spectrum of works for adult choirs - an activity started while she was accompanist of the Festival Singers under Dr. Elmer Iseler.

Her works are acclaimed, performed and recorded worldwide. Her pieces are often featured as the title track on recordings, such as My Heart Soars (TCC), Come, Ye Makers of Song (TCC), The Last Straw (Amabile Boys Choirs) and When Music Sounds (Oriana Singers). The Elmer Iseler Singers released a CD, Sing All Ye Joyful, devoted to the works of Ruth Watson Henderson. William Littler, writing in the Toronto Star, refers to this recording as "long overdue", and states that Ruth's "years as an accompanist for Elmer Iseler contributed to an understanding of the expressive possibilities of choral sound that has given birth to some of the most singable choral music in the Canadian literature." Other favourable reviews of her work include the following comments about her Cantata From Darkness to Light:
"Impressionistic harmonies, a constant sense of forward motion, and deft handling of the orchestral voices all combined to make this a most appealing work, worthy of repeated hearings." – Larry Palmers, The Diapason
"… a downright ravishing work!" – Timothy Howard, The American Organist

Although most widely known for her prolific output of choral works, Ms Watson Henderson has also written numerous instrumental compositions. In July 2009, her piece, Celebration, was chosen by the Annual Festival of Organ Music in London as the winning piece in a competition to honour the Royal Canadian College of Organist's Centennial and was premiered at the opening of an organ recital in Westminster Abbey. As well as her solo organ pieces, other works include her Intrada for Trumpet and Organ, her Fantasy for Saxophone and Organ, and Suite for Violin and Organ.

Recognized for her lifetime of service to music, Ruth has been paid many tributes by the music community. She was honored by the conferring of an honorary Fellowship by the Royal Canadian College of Organists (FRCCO); she received the National Choral Award for Outstanding Choral Composition for Voices of Earth, and the Distinguished Service Award by the Ontario Choral Federation. As a tribute to her on first her 60th, and then her 70th birthdays, numerous fine choirs performed entire concerts of her works; these choirs included the Elmer Iseler Singers, the Toronto Children's Chorus and the Oriana Women's Choir of Toronto.

Ruth Watson Henderson continues to serve as the Music Director at Kingsway-Lambton United Church in Toronto.